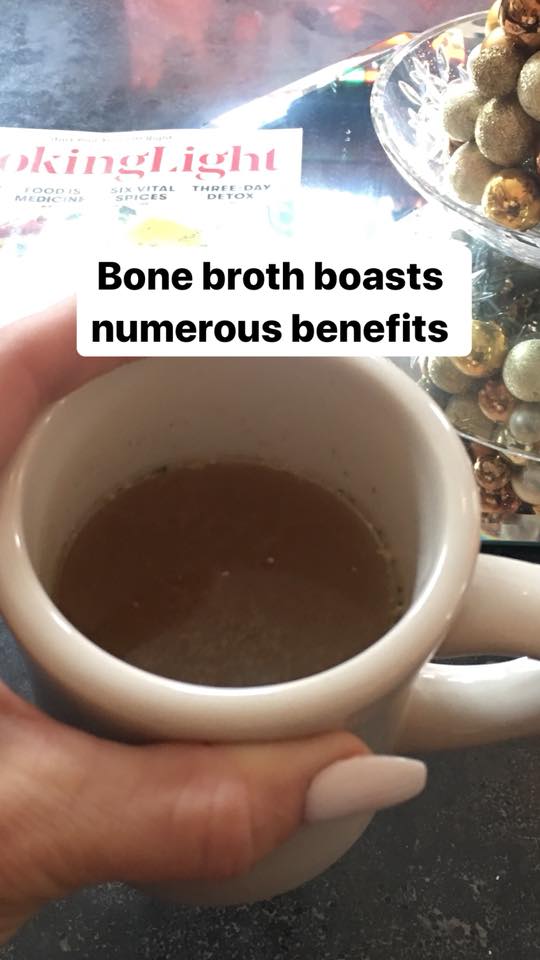 1 whole chicken carcass (from a rotisserie chicken)
½ medium onion, cut into quarters
4 cloves garlic, smashed 1 tsp. whole black peppercorns
2 medium celery stalks, cut into 2-inch pieces
2 medium carrots, peeled, cut into 2-inch pieces
1 tsp. sea salt (or Himalayan salt)
2 bay leaves 1 small bunch fresh thyme
1 small bunch fresh parsley
1 Tbsp. apple cider vinegar
Cold Water
Place chicken carcass, onion, garlic, peppercorns, celery, carrots, salt, bay leaves, thyme, and parsley in 5- or 6-quart slow cooker. Drizzle vinegar over chicken carcass to help extract its nutrients.

Add water until ingredients are submerged about 1 inch; cover. Set to low heat. You know your broth is done when bones begin to fall apart.

Strain finished broth through a fine mesh strainer; discard solids.

Cool in an ice bath, or by dividing liquid into three separate containers and placing them in the refrigerator with plenty of room between.

Once broth has cooled, remove layer of fat that has solidified on top; skim off the fat.
It is important to begin your bone broth with cold water as there are some compounds in the bones that dissolve more readily in cold than in heat.
If your slow cooker lid does not have a vent, leave the lid slightly askew so that the harsher aromatic compounds will evaporate out during cooking.
This recipe can be made in a stock pot. Bring to a gentle boil over high heat. Reduce heat to low, so that bubbles are just barely breaking the surface. Gently boil for 6 to 8 hours over low heat. Skim the surface every hour or so to keep the bone broth from getting cloudy. Add water if necessary to keep ingredients submerged.