If you have any questions about Shakeology, please get in touch with me on my Contact page, Facebook, or Twitter. The following FAQ should answer many of your initial questions.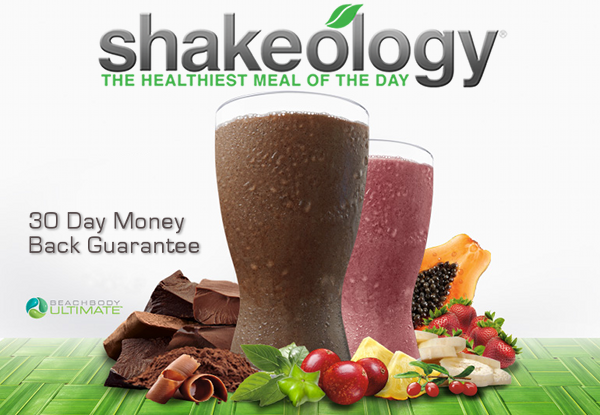 Shakeology FAQ
Is it OK to drink more than one shake per day? Or to replace more than one meal per day?
Yes, but it's not recommended to replace more than two meals per day for an extended period of time. I recommend one shake per day or try one of these great Shakeology Recipes.
Is Shakeology sold in stores?
Shakeology is sold exclusively through the Beachbody Coach Network, so you can't buy it in stores, but you can purchase it from me by clicking this Shakeology link or one of the Get Shakeology buttons on this page.
Can I drink this right before a workout?
Shakeology would be a better option than a full meal prior to working out. However, immediately before a workout, you'd be better served by something with more sugar and less fiber for rapid absorption.
I've tried Shakeology and seem to be experiencing digestive discomfort. Does this mean Shakeology doesn't work for me?
Not at all! For some people, experiencing digestive sensitivities is a normal part of the cleansing process. This just means your body's working hard to eliminate the toxins built up in your system over several years. These won't get flushed out in 1 day. Help your body to clean itself out more gently by reducing the amount you consume to a half-scoop once a day. Slowly build up to a half-scoop twice per day as your tolerance increases. You can then work up to one full scoop per day. (Although it's perfectly fine to continue to use Shakeology as 2 small snacks (a half-scoop each) throughout your day.) For some people, this process could take as long as 3 months.
Since everyone's body reacts differently, if you continue to experience digestive problems when you consume smaller amounts, please consult your doctor.
Do I use a full scoop or just up to the line?
Use a full scoop to get the recommended serving (40 grams for Greenberry and 48 grams for Chocolate).
Can I drink this right after a workout?
It's better than many other options available, but less ideal than something designed primarily for this purpose.
I already have another meal replacement shake. Should I throw it out and switch to Shakeology?
You don't have to throw it out. There are several good quality high-protein meal replacement shakes. Shakeology offers a wide array of nutrients in addition to protein. Because many meal replacement shakes have higher sugar content and less fiber, a good time to use them is around the time you're exercising. Shakeology is a better option for a meal that's at least 2 hours before a workout or 1 hour afterwards.
Why does the Chocolate flavor have more protein?
The serving size for Chocolate is 8 grams higher than for Greenberry. The extra ingredients added for the Chocolate blend (mostly chocolate powder and cocoa powder) add an additional 2 grams of protein for the serving size.
Can someone with lactose intolerance drink Shakeology even though it has 15 grams of whey protein (which is derived from milk)?
Because needs vary for each person with lactose intolerance, it's recommended that you check with your doctor first. However, the whey protein in Shakeology is whey protein isolate, which is more than 90 percent pure protein, leaving less than 10 percent of the ingredient, or 1.5 grams, where some lactose can be found. In addition, Shakeology is loaded with digestive enzymes-and lactase is one of them. Lactase is the enzyme that breaks down lactose and is found in over-the-counter products like Lactaid®. So because Shakeology is made with whey protein isolate and contains lactase, it may have a higher likelihood of being acceptable for most people with lactose intolerance. It's recommended that someone with lactose intolerance start with a small amount of Shakeology, monitor their body's reaction, and, if tolerant, slowly build up to a full serving or take a half-serving at two separate times during the day.
Should I continue to take multivitamins along with Shakeology?
Because of the way Shakeology is formulated, one shake pretty much covers your body's normal daily requirement for vitamins and minerals. However, if you're following a recommended exercise routine, your body is likely to be using up those nutrients at a faster rate. For example, if you're doing P90X® or INSANITY®-hard-charging routines that burn more calories, along with vitamins and minerals-you may need some additional supplementation. Due to the digestive enzymes in Shakeology, taking multivitamins at the same time you drink Shakeology will help your body to better absorb all the nutrients.
If there's no food coloring, why is one flavor green and the other brown?
The ingredients (herbal powders, grass powders, vegetable powders, spirulina, and chlorella, plus some of the fruit and berry powders) make the Greenberry flavor green in color. The base of Chocolate flavor is also green, but the chocolate and cocoa powders turn its color brown.
How can I pay for my order?
Orders for Shakeology may be placed using a major credit card. Beachbody currently accept Visa, MasterCard, Discover, and American Express. Debit cards may also be used as long as the card has the Visa or MasterCard logo on the front.
Will the ingredient "oat grass" in Shakeology trigger allergies for a person with oat allergies? Is oat grass the same as rolled oats (ex: oatmeal)?
No, oat grass is different from rolled oats and Shakeology does not contain any rolled oats. The Oat Grass used in Shakeology does not typically contain the allergens of oat grain. Individuals with oat allergies or sensitivities should consult their physician before taking Shakeology as a dietary supplement.
Is the whey protein antibiotic free?
Yes, the whey protein in Shakeology has been certified free of antibiotics.