WHY REFRESH?
Maybe you feasted like a king or queen over the weekend, and want get back on track. Perhaps you simply just want to lose that last bit of annoying pudge. Maybe you used to eat healthy but little by little you fell off the wagon and now are ready to climb back on. It's also possible you've never had a healthy diet but you're finally ready to start. Sometimes you want to quickly drop a few pounds for an upcoming social event. Or perhaps you're kick-starting a new workout program and want to shift into high gear right away. Or maybe, just maybe, you're ready for a few days of clean eating just because it's the right thing to do.
WHAT IS THE 3-DAY REFRESH®?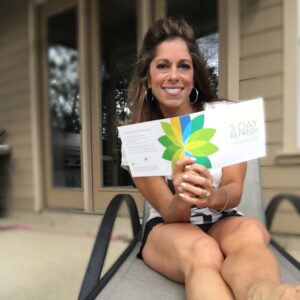 The 3-Day Refresh is a specially-designed nutrition program of protein-packed shakes and easy-to-prepare vegan meals. The 3-Day Refresh program can help provide a gentle cleanse and help you get a clean break from bad eating habits, learn about clean eating, and kick-start weight loss.
For 3 days you'll follow a program of 3 shakes a day, a fiber drink, plenty of filtered water, plus a wide array of fresh fruits, vegetables, and healthy fats throughout the day to keep your energy and metabolism going
HOW DOES THE 3-DAY REFRESH WORK?
The HEALTHIER Alternative to Liquid Fasts 
If you've ever done a juice fast or an all-liquid cleanse that's high in sugars and low in protein, you may have found that you felt weak, sad, and sluggish. And any weight loss came right back. That's because liquid fasts can tax your organs, and crater your metabolism.
The 3-Day Refresh is scientifically designed to do just the opposite. It detoxifies and cleanses, while supporting your metabolism with easy-to-prepare, nutritious whole food to help your vital organs reenergize. That's why you feel so good when you do the Refresh, and still lose weight at the same time! Your body functions more efficiently, and it helps burn fat.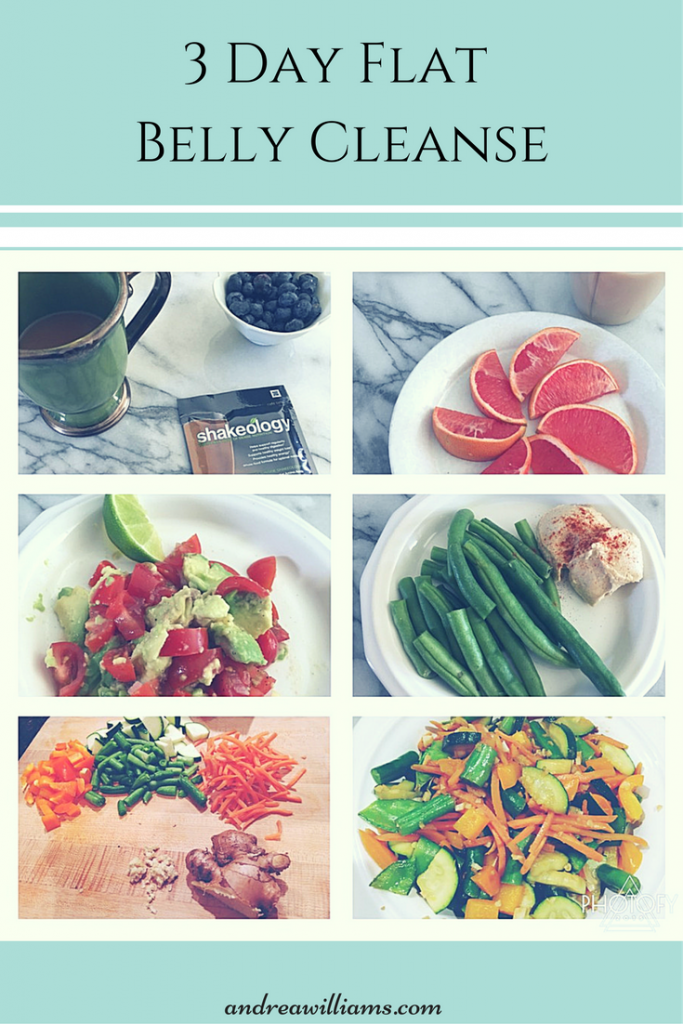 What's in the kit?
3 packets of Shakeology. Your choice of 6 flavors— although I recommend Chocolate Vegan during the Refresh because plant proteins are often easier for the body to digest.
Vanilla Fresh (6 packets) – Shake with 20 grams of wholesome plant-based protein, 22 essential vitamins and minerals, probiotics for digestive health, and a patented potato protein extract clinically tested to satisfy your appetite.**INGREDIENT LIST HERE!
Fiber Sweep (3 packets) – Gently and naturally eliminates waste from your digestive system! It's a nice blend of whole ground flax, chia, and psyllium seed husks. ** INGREDIENT LIST HERE!
Program Guide- Walks you through how this program works, what to expect, and how to prepare your shopping list, as well as your body, for the 3-Day Refresh. It also contains a menu planner with easy meals,  a list of fruit and veggie options, and recipes for fresh-pressed juices.
If this sounds like what you need, CLICK HERE to purchase and leave me a comment so that I can provide you free coaching and answer your questions!

Add on 3 Day Refresh Yoga!
What is 3-Day Refresh Yoga?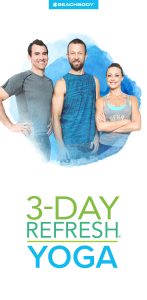 To enhance your 3-Day Refresh results, Beachbody created 3-Day Refresh Yoga, which is three yoga workouts designed to be performed while doing the 3-Day Refresh.
Available on Beachbody On Demand, these 30- to 35-minute yoga workouts are taught by three of the yoga instructors from Beachbody's 3 Week Yoga Retreat: Elise, Ted, and Vytas.
Whether you're new to yoga or have been doing yoga for years, the three yoga routines featured in 3-Day Refresh Yoga can help calm the nervous system, encourage deep breathing and blood circulation, and enhance your mental focus.
Each yoga workout ends with a short, guided meditation, so your 3-Day Refresh is supported in both body and mind. By pairing the 3-Day Refresh program with a three-day yoga and meditation series, you can be refreshed in three ways: nutritionally, physically, and mentally.