This is a fantastic recipe for a great healthy meal. I like to whip these up on meatless Mondays. The portobellos are savory and the kale is loaded with vitamins.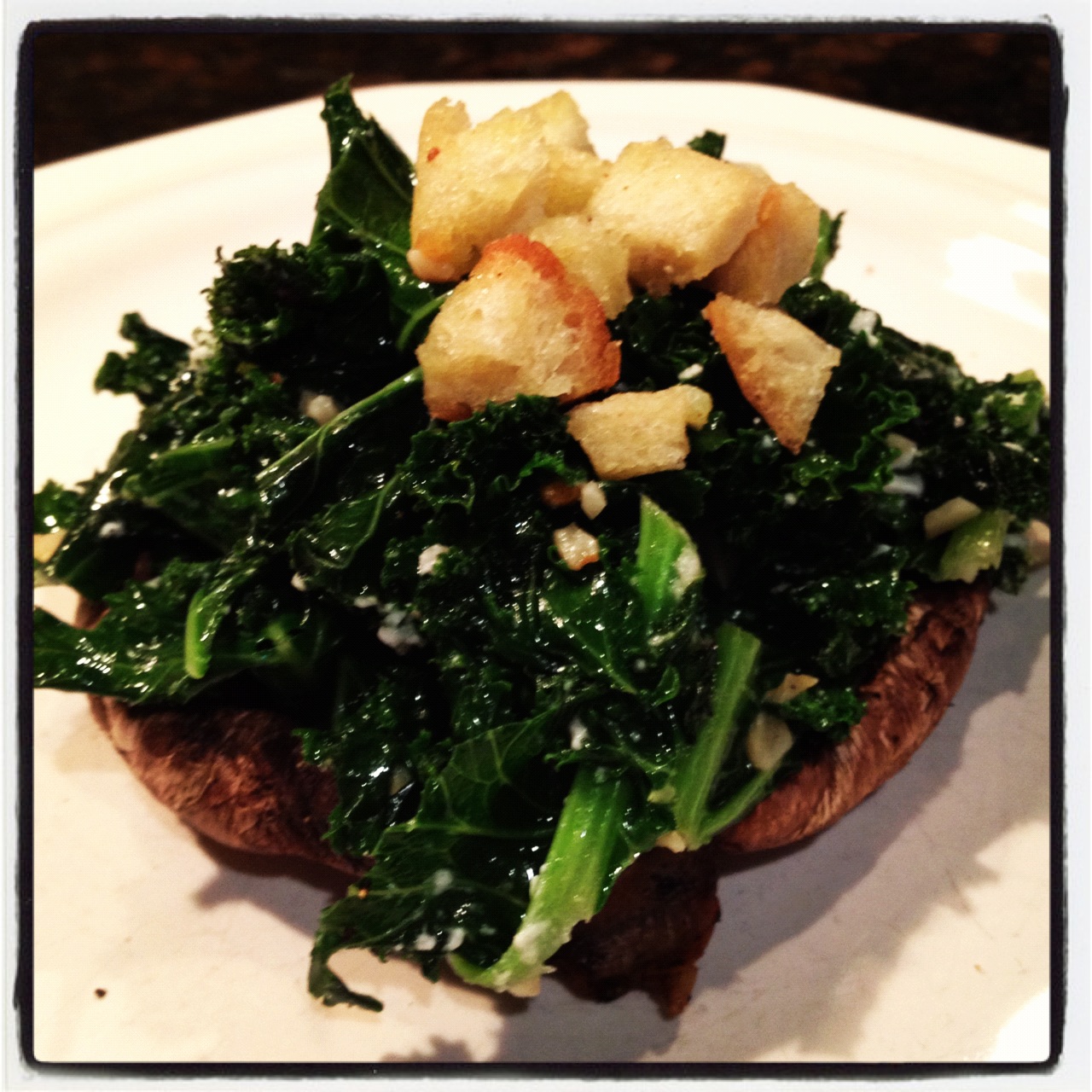 Ingredients
2 Portobello Mushrooms
4 Chopped Cloves Garlic
5 oz Chopped Kale
2 oz Goat Cheese
1 Slice Coarse Italian Bread
Red Pepper Flakes
Salt
Pepper
Granulated Garlic
Olive Oil
Preparation
Pull off stems of portobellos and scrape out gills with a spool. Lightly drizzle both sides with olive oil. Lightly season with salt, pepper and granulated garlic.
Chop garlic gloves. Wash, drain and dry chopped kale. Cut italian bread into small square cubes. These will be used to make the crouton topping.
Heat up the grill for the portobellos. When ready, grill portobellos for about 3 to 4 minutes on each side. Set aside.
Heat up a large skillet. Drizzle with olive oil, add most of the chopped garlic cloves and lightly sprinkle with red pepper flakes. (Set aside a small amount of chopped garlic cloves for crouton preparation below.) Sauté garlic for a few minutes, then add kale. Lightly season kale with salt and pepper and sauté for 6 to 7 minutes. Break goat cheese into small pieces and stir into kale. Place kale mixture aside in a bowl and cover to steam.
Drizzle pan will a little more olive oil, add garlic and toss italian bread cubes into pan. Sauté for 3 to 5 minutes until crisp. Remove croutons from heat.
Place portobellos on separate plates, add even amount of kale mixture on top of each and top with italian bread croutons.