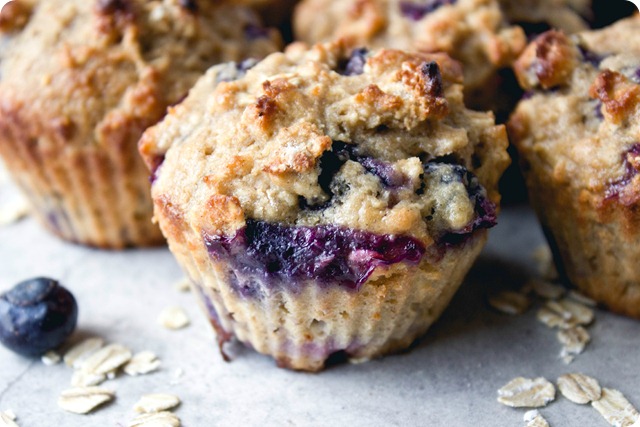 Blueberry Oatmeal Power Muffins
Total Time: 40 min.
Prep Time: 15 min.
Cooking Time: 25 min.
Yield: 12 servings, 1 muffin each
Ingredients:
Nonstick cooking spray (optional)
1 cup reduced fat (2%) plain Greek yogurt
3 Tbsp. raw honey
2 large very ripe bananas, cut into chunks
2 large eggs
½ tsp. pure vanilla extract
2 cups old-fashioned rolled oats
1½ tsp. baking powder
½ tsp. baking soda
½ tsp. sea salt (or Himalayan salt)
2 cups fresh or frozen blueberries
⅔ cup chopped raw walnuts
Preparation:
1. Preheat oven to 350° F.
2. Prepare 12 muffin cups by lining with muffin papers or lightly coating with spray.
3. Place yogurt, honey, bananas, eggs, extract, oats, baking powder, baking soda, and salt in blender (or food processor); cover. Blend until smooth, scraping once or twice, as needed.
4. Gently fold in blueberries and walnuts.
5. Evenly divide batter among prepared muffin cups.
6. Bake 20 to 25 minutes, or until tester inserted into the center comes out clean.
7. Transfer muffins to rack; cool.