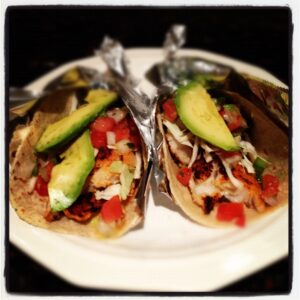 In a hurry? This is a great healthy recipe that takes less than 15 minutes to prepare.
Because it's so quick sometimes I'll prepare this on weekday evenings when I get home from teaching fitness classes.
It's quick, easy and there's only one pan to clean!
Ingredients: Choose sustainable fish and organic/non-GMO produce when possible.
1 lb Cod or Flounder or US Tilapia
1 tsp. Garlic Powder
1 tsp. Smoked Paprika
1 tsp. Black Pepper
2 pinch Sea Salt (one per side)
1 small Bag Lettuce/Cabbage/Carrot mix
1 Avocado
Your favorite Salsa or Pico de Gallo
4 White Corn Tortillas
2 Tbsp. siggi's plain yogurt
1 tsp. Sriracha Sauce
1 Tbsp. Extra-Virgin Olive Oil
Preparation
Open bag of lettuce/cabbage/carrot mix. Slice avocado. Open salsa/pico. Put yogurt and sriracha in small ramekin and mix. I know, prep is difficult (not).
Directions
Heat a small cast iron skillet to medium-high heat. Season each side of the fish with garlic powder, smoked paprika, black pepper and sea salt. Put evoo in skillet.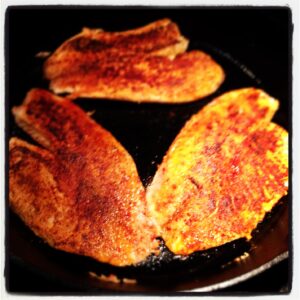 It's ready when you start to see a little smoke from the evoo. Carefully place fish filets in skillet. Cook on each side about 3-5 minutes.
Seasoning should appear slightly blackened when you flip the filets. Pull off heat when done.
Lay 2 tortillas on plate, smear with a little yogurt/sriracha, layer fish, l/c/c mix, avocado and salsa/pico on top.
Cooking Time: 10 Minutes
Total Time: 15 Minutes
Servings: 2
*I recommend Sustainable Fish. Use the Seafood Watch App to find sustainable fish in your area.