Why do you love fall so much?
The cozy sweaters, colorful fall leaves, and — oh, yeah — your favorite pumpkin spice beverage! Did you know the average  pumpkin spice latte can cost you over 380 calories and it has very limited nutritional value? I'm so thrilled to offer a better option! For the first time ever, the BIGGEST flavor of the season is here!
Pumpkin Spice Shakeology!
Details:
For a limited time only, starting on September 17th, 2018 in the U.S. and on October 11th, 2018 in Canada, you can order Vegan Pumpkin Spice Shakeology! 
It comes in 14 single-serve packet boxes, (no 30 serving bags)

As a one-time purchase while supplies last.
Now you'll be able to enjoy the delicious taste of fall – without derailing  your health and fitness goals. No need to stop by the coffeehouse for a sugar-loaded calorie bomb this year!
Pumpkin Spice Shakeology has all the flavors of fall you love so much. Enjoy warm cinnamon, spicy nutmeg, and ginger that taste like a sinfully delicious treat without any of the guilt.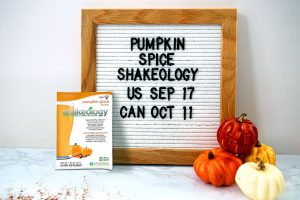 It's incredibly tasty on its own, mixed with coconut milk or almond milk for a creamier version, or simply added to your favorite Shakeology recipes. And best of all, you get to enjoy Pumpkin Spice Shakeology guilt-free, because it has all the nutritional benefits of Shakeology you've come to know and trust.
It's meticulously crafted with a potent blend of protein, probiotics, digestive enzymes, antioxidants, vitamins, and minerals.
So get ready to enjoy your best fall season ever. Don't wait to get your Pumpkin Spice Shakeology as soon as it's available. It's sure to sell out FAST! Interested in checking it out before it's gone? Fill out this quick form so I can alert you IMMEDIATELY as it's available with the link to purchase so you can get your hands on it!