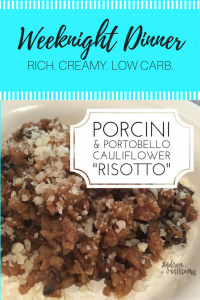 Try this easy, low carb Cauliflower "Risotto". Perfect for a weeknight dinner or a cool evening when you are short on time. It's gluten-free and grain free as well as vegetarian.
Ingredients
16oz. bag riced cauliflower
1oz. bag dried Porcinis (follow package directions to rehydrate and save soaking liquid)
1 small onion, diced
4 cloves garlic, minced
4 tbsp. butter
red pepper flakes
1 8oz. package of cremini (baby portobello) mushrooms, chopped
1/2 cup beef broth
2 tbsp. goat cheese
grated parmesan to top
salt and pepper


Method

Follow package directions on porcini to rehydrate.  Pour soaking liquid through a coffee filter and reserve. Chop porcini.

Preheat skillet and melt butter. When butter begins to brown, add onion and pinch of red pepper flakes & salt. Saute until translucent.
Add chopped creminis and saute until they soften. Add chopped porcini and minced garlic. Saute for one minute.
Add in cauliflower and stir well. Saute for 1-2 minutes.
Add the reserved porcini liquid and beef broth.
Cover skillet and bring to a light bubble – then turn down the heat and simmer.
Cook, stirring once in a while for around 25 minutes or until desired consistency.
Stir in Goat cheese. Adjust seasonings.
Serve with fresh parmesan!