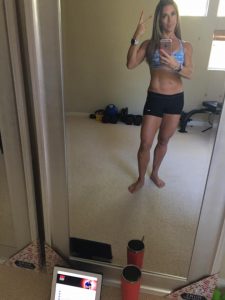 Oh yes I did!! Y'all know I'm not a fan of running right?! So I found something WAY better and more effective than running and guess what??? It's kind of fun!
Three weeks – meal plan included AND the BEST part?? The workouts are short and go by fast. What's this secret sauce? SHIFT SHOP baby! What are these workouts like?
Week one – 25 minutes. Think short, timed, athletic drills and some nice, light lifting with a GREAT AB workout.
Week two – 35 minutes. Timed drills with ramped up intensity and more innovative strength training.
Week three – 45 minutes. More formations and patterns. Agility and speed are your new BFF's! The lifting? OMG – so creative your body won't have time to adapt.
Should you want to continue a second round (this is what I did) you will start at week two,  do week three and THEN add week four which is the cat's pajamas!! 50 minute workouts and a core workout that will have your abs wanting to peek out big time!
BEST part? Getting super lean and no bulk! You'll feel so light and energetic, like a confident brand new you!!
HOW do you start? 
FIRST – you download the Beachbody on Demand app to your ipad, phone or other device.
SECOND – you stream Shift Shop via this device
THIRD – you get ME to coach you through this because I've been there, done that and I know how to get YOU to the end with maximum results.
WHY should you do this?
HIIT training has been shown to improve:
aerobic and anaerobic fitness
blood pressure
cardiovascular health
insulin sensitivity (which helps the exercising muscles more readily use glucose for fuel to make energy)
cholesterol profiles
abdominal fat and body weight while maintaining muscle mass