These are gluten free, super light and airy. Don't be alarmed if yours don't remain as fluffy as they cool. They still taste amazing!
Ingredients:
Serves 12. Prep time: 15 min. + 30 min. to rise. Cooking time 15 min.
2 cups gluten-free all purpose flour ( I like Bob's Red Mill All-Purpose Baking Flour red label)
2 1/2 tsp. xanthan gum
1 tsp. sea salt
2 tsp. instant yeast
2 large eggs, lightly whisked
1 1/2 cups unsweetened coconut milk (carton, not can)
2 tbsp. ghee (organic grass fed is optimal)
2 tbsp. pure maple syrup
1 tbsp. finely chopped fresh rosemary
Special equipment: Nonstick cooking spray and muffin tin
Process:
Preheat oven to 400 degrees F
Lightly coat muffin pan with spray. Set aside.
Place flour, xanthan gum, salt and yeast in food processor; pulse to combine. Set aside.
Combine eggs, coconut milk, ghee, maple syrup, and rosemary in a medium mixing bowl; whisk to blend.
With food processor running, add egg mixture to flour; process for 2 1/2 minutes.
Fill each muffin cup with 1/4 cup batter; cover. Allow to rise for 30 minutes
Uncover and bake for 15 minutes, rotating pan after 8 minutes.
Let muffins cool in pan slightly before transferring to a cooling rack.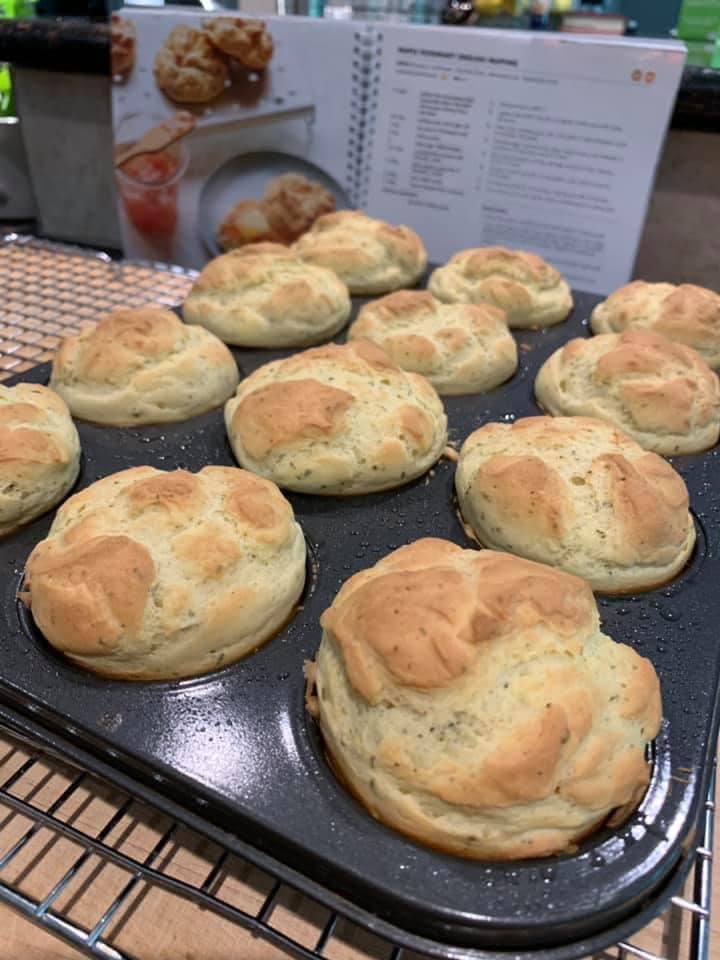 Recipe Notes:
Rapid rise yeast (1 packet) can be used instead of instant yeast.
If you don't have a muffin top or regular muffin pan, use 2 large baking sheets lined with parchment paper. Spread 1/4 cup batter into 4-inch circles on parchment paper.
To get a nice cut – split with a fork rather than slicing with a knife.
Store in an airtight container up to 3 days or freeze for up to 3 months.