Ingredients
1/2 cup grass fed butter, softened (I use Kerrygold)
1/2 cup organic coconut sugar
1 tsp. Vanilla extract
1 egg + 1 egg white (pasture raised)
2 1/2 cups blanched almond flour
1/2 tsp baking soda
1/4 tsp Himalayan salt
1 cup unsweetened or semi-sweet chocolate chips
Optional: chopped pecans, macadamia nuts or toasted unsweetened coconut
Method
Preheat oven to 350. Line baking sheets with parchment or a Silpat
Mix butter, sugar & vanilla extract together in a large bowl. Mix in eggs until well combined.
Stir in almond flour, baking soda & salt and mix well. Gently stir in chocolate chips. If adding optional nuts etc., stir those in as well.
Drop tablespoon sized dough onto baking sheets two inches apart. Bake for 12-15 minutes until lightly browned on top.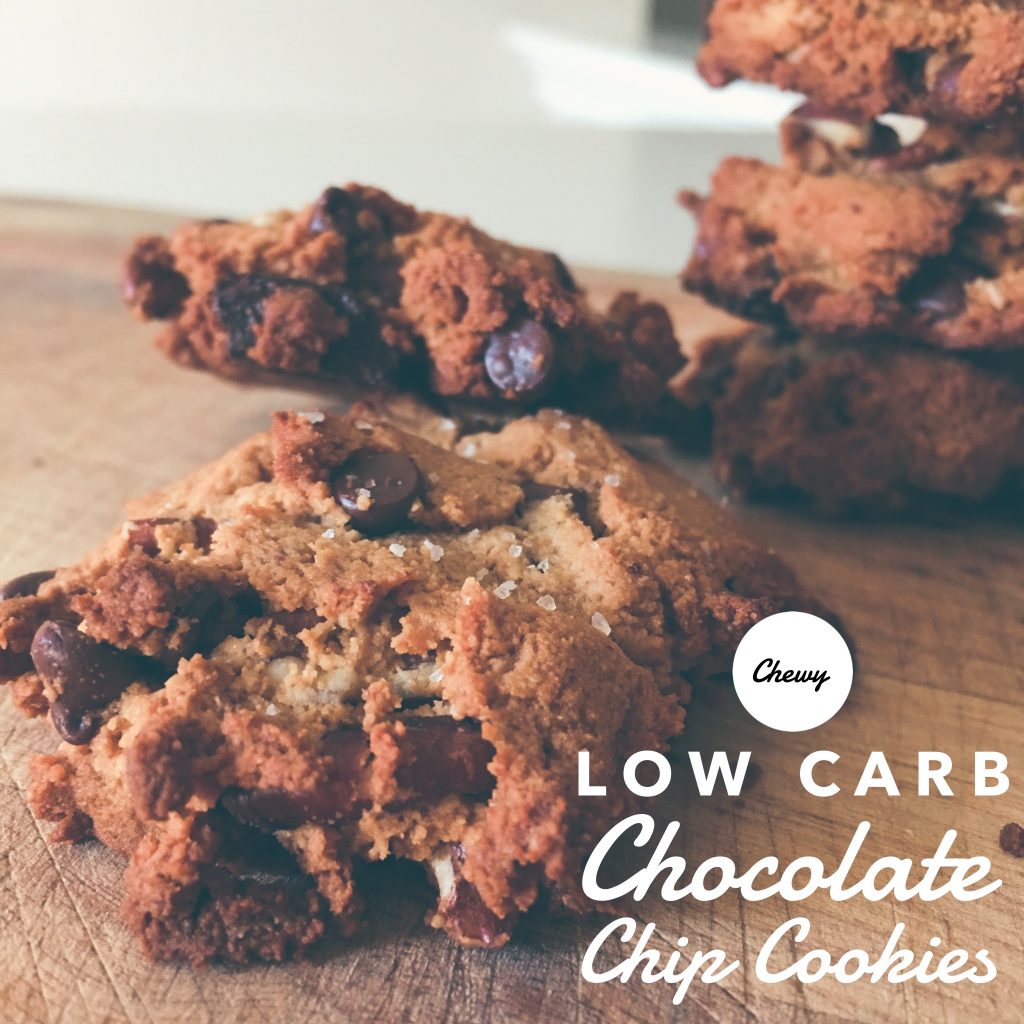 Version 2.0
Ingredients:
1 egg, slightly beaten
1 teaspoon vanilla extract
1/4 cup coconut oil, melted and cooled
1/4 cup coconut sugar
1 cup almond flour
1/4 cup coconut flour
1/2 teaspoon baking soda
3 oz 80% dark chocolate, coarsely chopped*
Coarse sea salt, for sprinkling
Method:
Preheat oven to 350 degrees F.
In a large bowl, mix your beaten egg, melted and cooled coconut oil, coconut sugar and vanilla extract. (Please be sure your coconut oil is cool unless you wanted scrambled eggs!) Next add: almond flour, coconut flour & baking soda. Mix well to combine and form a dough. Fold in dark chocolate chunks. You may need to use your hands to bring the dough together so that it sticks.
Use a cookie scoop or large tablespoon to drop dough onto ungreased baking sheet. Slightly flatten the dough with your hand. Bake for 11-13 minutes, or until edges are slightly golden brown. Sprinkle with coarse sea salt and allow to cool on cookie sheet for 10 minutes before transferring to a wire rack to cool! Enjoy!