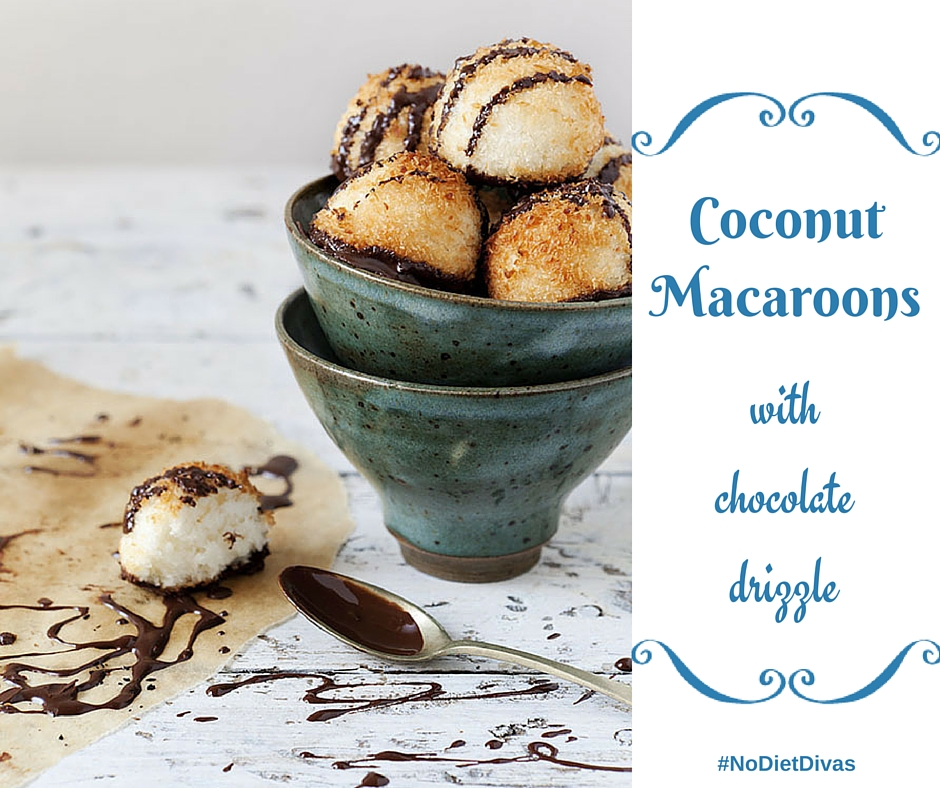 You might look at these and think I'm just being evil and trying to sabotage your goals to keep your macros on point for the New Year!! Bwahaha!! I'm really just giving you options for that nagging sweet tooth!! Please don't think it's ALL OR NOTHING right now. That's the fastest way to fail at your new body that's under construction. Instead – make wiser choices like THESE little lovelies! MMMM they are so good and so easy to make! ‪#‎NoDietDivas‬ ‪#‎buckthesystem‬ ‪#‎eatwhatyoulike‬ Macros: 1/2 Yellow, 1 Orange
Coconut Macaroons
Total Time: 20 min.
Prep Time: 5 min.
Cooking Time: 15 min.
Yield: 5 servings, 2 cookies each
Ingredients:
2 large egg whites
2 Tbsp. coconut whey protein (or vanilla whey protein or Beachbody Base Shake)
⅔ cup unsweetened shredded coconut
2 Tbsp. dark chocolate morsels
Preparation:
1. Preheat oven to 325° F.
2. Place egg whites in a clean medium mixing bowl; beat until stiff peaks are formed.
3. Gently fold in whey protein and shredded coconut.
4. Drop by rounded Tbsp. onto prepared baking sheet.
5. Bake for 13 to 15 minutes or until browned; cool.
6. Melt chocolate in a small microwaveble bowl for 30 seconds at 50% heat. Stir and repeat until nibs melt.
7. Drizzle melted chocolate over cooled macaroons.
Tip: Coconut whey protein can be found at health food stores or online.