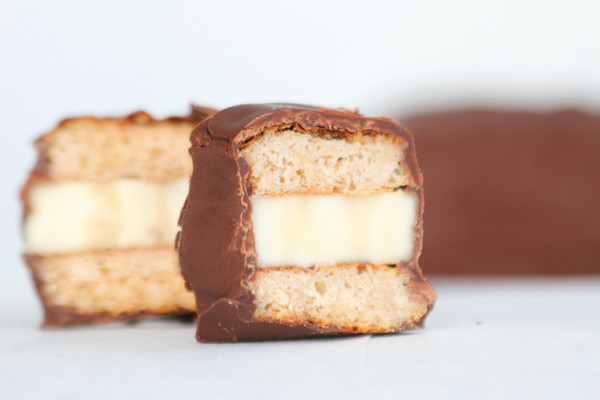 I recently discovered FlapJacked Protein pancake mix and have been sharing their products with all of my health-conscious "Fit-foodie" friends. This recipe uses their Banana Hazelnut mix which is a blend of Whole Oat Flour, Buttermilk, Whey Protein Isolate, Banana, Hazelnut Flour, Baking Soda, Baking Powder, Salt and Xanthan Gum.
"This protein pancake is loaded with potassium and fiber. Hazelnut meal adds vitamin E in addition to B vitamins (including folate) and is also a rich source of potassium, calcium and magnesium. With only 200 calories per serving, our Banana Hazelnut Protein Pancake Mix has a sweet, nutty flavor while modestly packing 16 grams of protein and 4 grams of fiber in each serving."- FlapJacked
INGREDIENTS
1 cup FlapJacked Banana Hazelnut Protein Pancake Mix
1 cup water (or unsweetened coconut milk)
1/2 – 1 cup 60% dark chocolate (or semi-sweet) chopped
1 large fresh bananas (chilled for 1 hour)
4 TBSP almond or peanut butter (I used Whole Food's fresh ground almond butter)
INSTRUCTIONS:
Prepare FlapJacked Pancake mix as directed on the package and cool. You can do this 1-2 days in advance. Melt the chocolate in a double broiler pan until chocolate is melted.  While heating the chocolate, Layer the following:
1 Pancake
1/2 TBSP Nut butter
1/4″ banana slices
1/2 TBSP Nut butter
1 Pancake
Cut into Bars and dip in melted chocolate until coated.  Place on wax paper in the refrigerator until firm. (about 30 minutes)
ENJOY!
NUTRITION FACTS:
Serving Size: 1 bar (10 servings)
Calories 79
Fat 4g
Carbohydrates 8g
Fiber 1g
Sugar 2g
Protein 3g