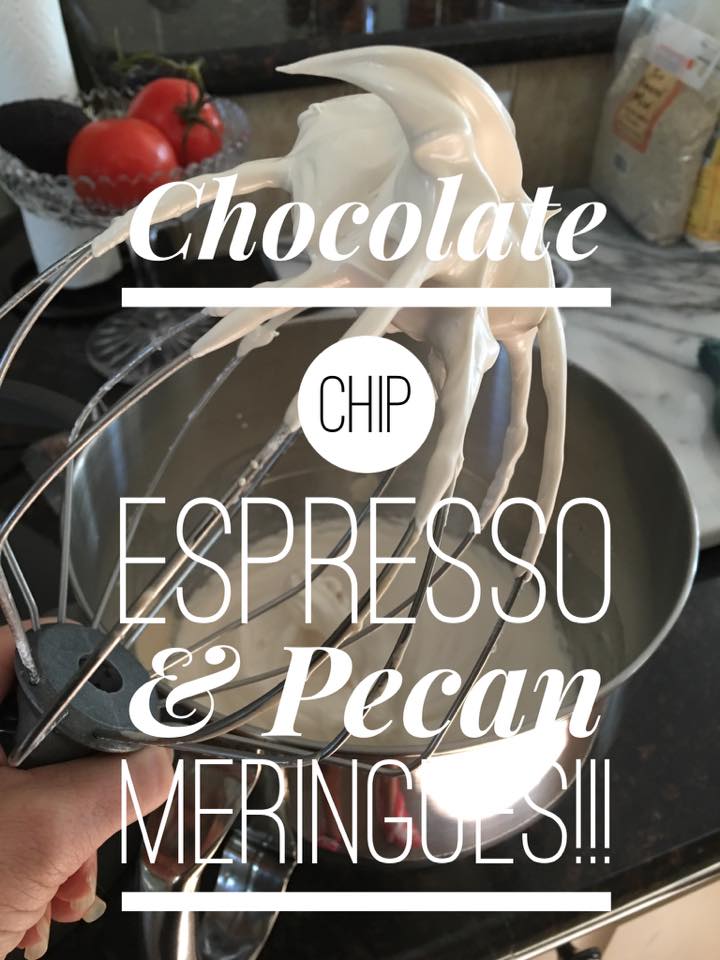 Ingredients
3 egg whites, at room temperature
Pinch fine sea salt
3/4 cup superfine baker's sugar
1/8 teaspoon cream of tartar
1/4 teaspoon vanilla extract
1 teaspoon instant espresso powder
2/3 cup mini semisweet chocolate chips
2/3 cup chopped roasted pecans
Place an oven rack in the center of the oven. Preheat the oven to 300 degrees F. Line a baking sheet with parchment paper or a Silpat. Set aside.
In a stand mixer fitted with the whisk attachment, beat the egg whites and salt until frothy, about 1 minute. With the machine on medium-high speed, gradually add the sugar, about 1 tablespoon at a time. Add the cream of tartar, vanilla extract, and espresso powder. Increase the speed to high and beat until the mixture is thick and holds stiff peaks, about 3 to 5 minutes. Using a spatula, fold in the chocolate chips & pecans. Drop 1/4 cup of the mixture onto the prepared baking sheet about 2 inches apart. Bake for 30 minutes. Rotate the pan and bake for another 30 minutes. Turn off the oven and allow the meringues to cool completely while still in the oven, about 2 hours.
Store airtight in a plastic container for up to 4 days.
Cook's Note: The meringue mixture can also be placed in a pasty bag fitted with a large, plain tip (recommended: Ateco # 9808) and piped onto the baking sheet.