Love pasta? Love noodles? Trying to cut the carbs? Get ready, I'm going to change your life! Well, not literally but maybe just a little in the food department!
My new kitchen toy is Sur La Table's Vegetable and Fruit Spiral Slicer.
You can use this with Zucchini, Carrots, Beets, Radishes, Potatoes, Bell Peppers, Onions, Apples just to name a few! It has three different blades that come with it so you can either spiral slice or make thin or thick noodles. Last night, I chose to make a Zucchini "spaghetti" with a Basil Pesto.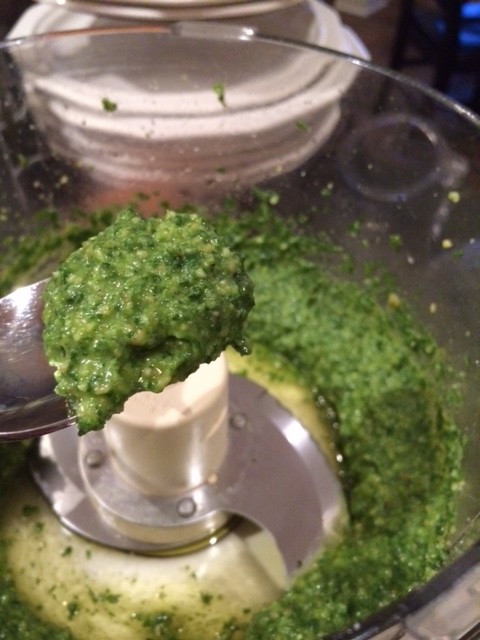 Pesto:
1/3 cup  Pine Nutes
2 Garlic Cloves (minced)
1/2 cup  Grated Parmesan Cheese (not the fake stuff – REAL crumbly reggiano)
Olive Oil
Salt
Freshly Cracked Black Pepper
Rough Chop your Basil and toss everything EXCEPT the olive oil into your food processor. Blend until finely chopped. With your food processor running, slowly drizzle in as much olive oil as you need to make a nice paste. (
Zucchini Pasta:
Cut 3-4 medium Zucchini with a spiralizer, a mandolin fitted with a julienne attachment, or shaved thinly with a peeler.

Heat a large skillet over medium-high with a few tablespoons of Olive Oil.  Add the Zucchini and some minced garlic, toss to coat in Oil.

Add a few tablespoons of Pesto and toss with the Zucchini. Once the Zucchini begins to take on color, transfer to a platter. (Option, sprinkle with extra Parmesan or Toasted Pine Nuts)
ENJOY!!