Calling all my chocoholics!! These are so super easy to make and are perfect when you just want a little something sweet. Each bite is less than .5 oz so you can feel good knowing you can have your chocolate and still have your abs! Andrea's Dark Chocolate Super Bites!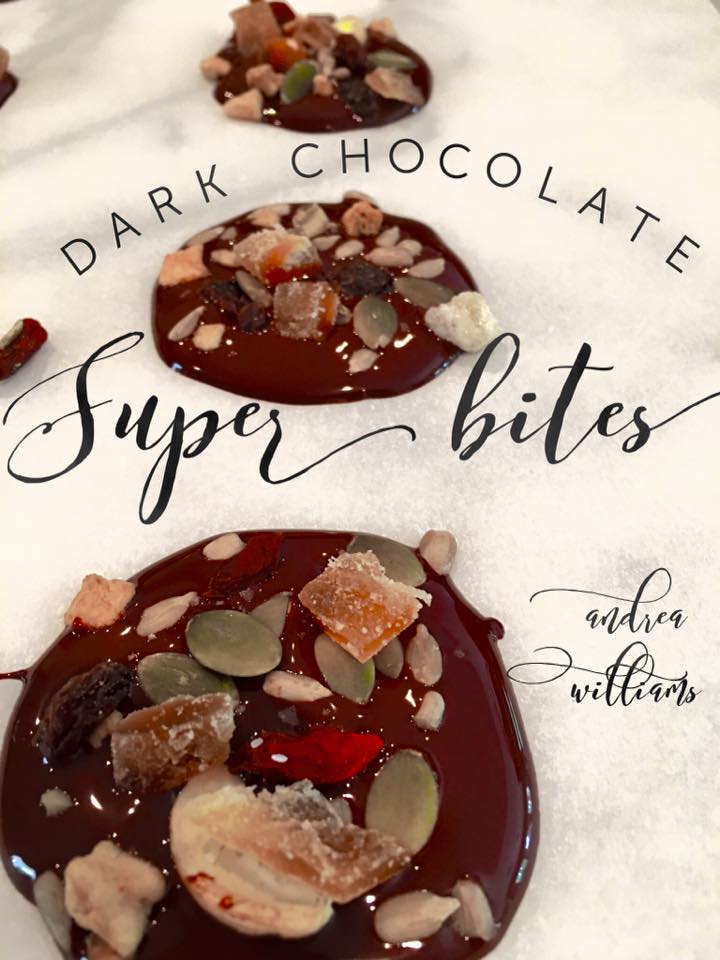 INGREDIENTS
about 8 oz of dark chocolate, I used Ghiradelli 72% Super Dark chocolate bars (the higher the percentage of cacao the better)
assorted dried fruits, chopped nuts, and seeds. I prefer a mix from the bulk section of your local grocer! And might I add that candied Ginger is the bomb-diggity here!
INSTRUCTIONS
Lay out a piece of parchment paper or waxed paper
Chop your chocolate into small pieces and put in a microwave safe glass measuring cup. Microwave for 60 seconds, and then stir. Microwave for another 30 seconds, and then stir again to completely melt the chocolate. If there are still lumps, microwave for another short burst and stir again.
Use a spoon to make small rounds of chocolate onto the parchment paper. Let the chocolate fall from the spoon and it will naturally form a more or less round shape. You can nudge it with your spoon if you like. Work with one at a time, and sprinkle each round of chocolate with an assortment of your healthy add-ins while the chocolate is still hot. Make them whatever size you like, but mine were about 2 to 2 1/2 inches in diameter.
Let the chocolate set at room temperature, or if you live in a warm climate like TEXAS, put the bites in the refrigerator to speed things up.
Enjoy!! I store mine in an airtight container in my fridge.