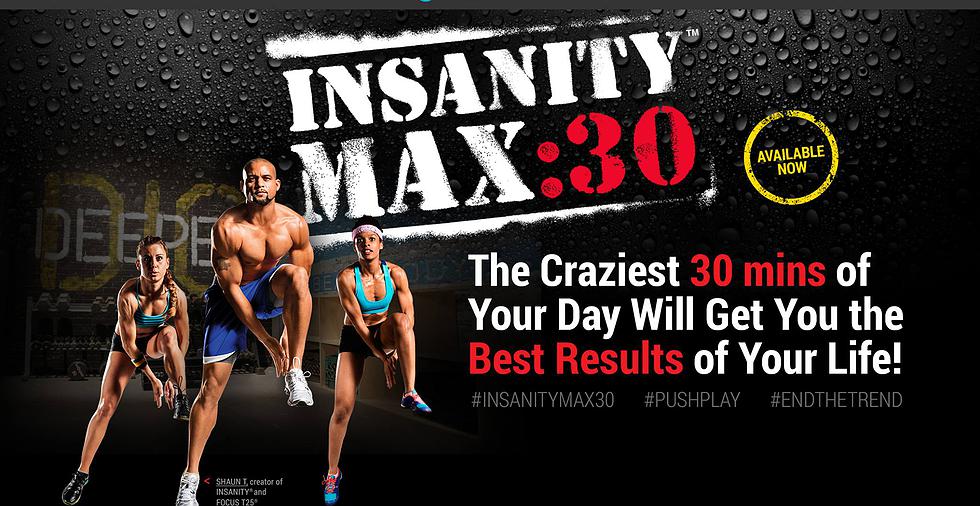 Get ready to MAX OUT for MAX RESULTS! With INSANITY MAX:30, the only thing standing between you and the best body of your life…is YOU. There's no equipment needed in these killer cardio and strength workouts. Just push to your MAX and get insane results in 30 minutes a day.
Exclusive Offer! Get a FREE bonus workout DVD, Sweat Fest (a $19.95 value), when you order INSANITY MAX:30 through ME!!
The craziest 30 minutes of your day—for the best results of your life!
If you're ready to push harder than ever before…and dig deeper than you ever thought you could…then you can see results you never thought possible. Because it's not about finishing the workout—it's about seeing how far you'll go before you MAX OUT.
Take Shaun T's 60-Day MAX OUT CHALLENGE and get ready for new moves and new sequences designed to shatter your limits. The goal in INSANITY MAX:30 is to work to your max in every move and every minute, so you can torch MAX calories, burn MAX fat, and achieve MAX muscle definition. It's a battle between your body and your mind to see how far you're willing to go for insane results. Yes, it's crazy hard, but it's only 30 minutes!
Here's what you get:
12 WORKOUTS ON 10 DVDS
Month 1: Shaun alternates killer cardio and Tabata-style strength workouts all in

preparation for your end-of-week challenge, Friday Fight.
Cardio Challenge
30 minutes of the hardest cardio sequences you've ever tried. Welcome to INSANITY MAX:30.
Tabata Power
Your strength training starts here with traditional Tabata-style "20 seconds on, 10 seconds off" workout structure. Your muscles will beg for mercy.
Sweat Intervals
Just in case you didn't think Cardio Challenge was hard enough, you'll have 30 minutes of screaming, sweating, calorie-scorching madness.
Tabata Strength
Shaun T takes it up a notch in this NO REST, Tabata-style strength workout. You heard right…30 minutes, no rest.
Friday Fight: Round 1
It's a battle between your mind telling you to push to a new Max and your body saying "OMG, are you serious?" And this is just Round 1.
Month 2: You'll feel like you're back at Day One as the intervals get longer, but the rest stays the same.
MAX OUT Cardio
This may be the craziest cardio workout you ever tried. Just wait till you get to the first Power Move. What minute are you Maxing Out at now?
MAX OUT Power
The intervals are longer in this "45 seconds on, 15 seconds off" Tabata-style plyometric power madness.
MAX OUT Sweat
The more minutes you make it through, the more you sweat and the more calories you burn. Now you know the meaning of "twice the sweat in half the time".
MAX OUT Strength
Your arms, shoulders, chest, and core will be toast after this upper-body-focused, "45 seconds on, 15 seconds off" Tabata-style routine.
Friday Fight: Round 2
The new "hardest workout ever." Every move is a minute in this final fight between your body and your mind. Who's going to win?
CLICK HERE to order yours and to be included in my private support group where you receive free coaching and support daily to ensure YOU are successful!
What makes INSANITY MAX:30® unique?
Every day is a brand-new challenge in INSANITY MAX:30. With killer cardio, challenging Tabata-style strength workouts, plus 150 new moves designed to shatter your limits, Shaun pushes you to work harder, go longer, and MAX OUT later. It's not about making it through all 30 minutes. It's about pushing yourself more each day to get the body you've always wanted in 60 days.
And even though INSANITY MAX:30 is a challenging program, the great thing is you can follow the modifier—whatever your fitness level—to MAX OUT and still get MAX results!