I'm an ambassador and a member of siggi's Culture Club and I feel it is my duty to share with you what is, in my opinion the BEST yogurt on the market! Not only does siggi's taste rich and creamy but it's also good for you! It's versatile and makes for great substitutions in recipes as well.
Here are a few of my favorite recipes!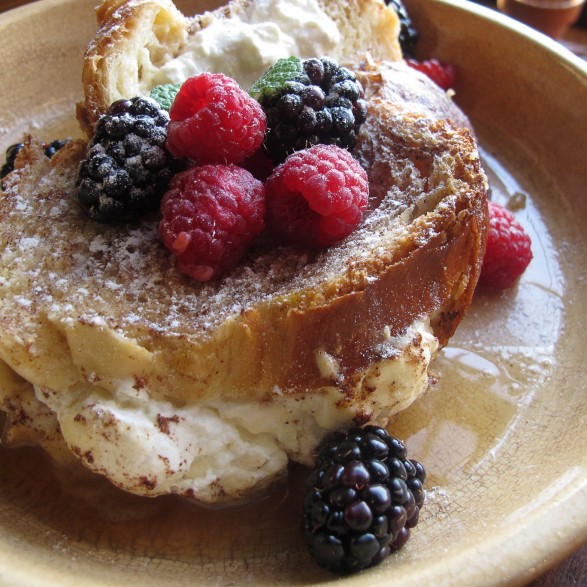 Stuffed French Toast
serves 5-10
Ingredients
4 cups milk
4 large eggs
½ cup maple syrup
2 tsp vanilla extract
1 ½ tsp cinnamon
½ tsp salt
4 oz siggi's Plain 0% Skyr
4 oz cream cheese, softened
1 (1-lb) loaf challah bread, cut into 2-inch slices
maple syrup for serving
fresh fruit for serving
Preparation
Preheat oven to 375*F. Lightly grease a sheet pan or line with parchment paper.
In a shallow baking dish, whisk together milk, eggs, maple syrup, vanilla, cinnamon and salt; set aside. This will be your milk mixture.
In a small bowl, stir together the yogurt and cream cheese until smooth. Transfer to a re-sealable plastic bag; cut off one of the corners to create a small hole for piping.
Cut a pocket into the side of each slice of bread, careful not to cut through the bread. Pipe the skyr mixture into the pocket of each slice of bread.
Dip the stuffed bread slices into the milk mixture, letting them soak for about 2 minutes per side to absorb the liquid.
Place bread on the prepared sheet pan and bake for about 25 minutes, flipping halfway through, or until golden brown.
Serve warm with maple syrup and fresh fruit.

Mac & Cheese
serves 4 as a side dish
Ingredients
2 cups dried macaroni pasta
1 Tbs butter
1 egg
1/4 cup Plain 0% Filmjölk
1/4 cup milk
1/8 tsp cayenne pepper
7oz shredded cheddar cheese
salt and pepper to taste
toasted bread crumbs, optional
Preparation
Bring a large pot of heavily salted water to a boil. Add the macaroni pasta and cook until tender. About 7-10 minutes. After it's cooked, turn off the heat.
Drain the pasta, then add the butter and stir well to coat the pasta.
In a separate bowl, combine the filmjölk, milk, cayenne pepper, and egg. Whisk until well combined, then pour this mixture over the pasta and stir to coat. The egg will cook from the residual heat. Slowly add the cheese until melted.
Serve with toasted breadcrumbs.
Frozen Banana Yogurt Pops
makes 1 dozen
Ingredients
6 medium bananas, peeled and cut in half
1 cup (5.3oz) siggi's Vanilla 0% yogurt
1/4 cup whole milk
4 oz dark chocolate, melted
a drizzle of agave nectar to taste
1/2 cup of toppings (shredded coconut, pistachios, etc.)
12 wooden frozen treat sticks
Preparation
Insert the banana halves with a wooden popsicle stick and place in the freezer to harden. About 2 hours or overnight. This will make assembly easier.
In a medium size bowl, combine the yogurt and whole milk. Add agave nectar to taste.
Dip each frozen banana into the yogurt mixture and sprinkle with your favorite toppings and drizzle with some chocolate.
A delicious and heavy treat for the summer!
Simple Potato Salad
serves 4 as a side dish
Ingredients
2 lbs fingerling potatoes, washed
1/4 cup shallots, minced
1/2 cup celery, diced finely
1/2 cup siggi's Plain 0% yogurt
1/4 cup apple cider vinegar
2/3 cup chives, finely minced
2 dashes hot sauce
1 Tbs whole grain mustard
salt & pepper to taste
Preparation
In a medium saucepan, cover the potatoes with cold water. Season the water with salt and bring the potatoes to a simmer. Simmer until fork tender. Drain and allow the potatoes to cool.
Once the potatoes are cool, cut them into bite size pieces and set aside.
In a medium mixing bowl, combine shallots, celery, yogurt, apple cider vinegar, chives, hot sauce, and whole grain mustard. Whisk until smooth and season with salt and pepper to taste.
Toss the potatoes into the dressing and season with salt and pepper to taste.
My favorite flavor:
skyr
Coconut
2% rjóma-skyr5.3oz size
Nutrition Facts
Serving Size

1 container (150g)

Calories

170

Calories from fat

70
* % Daily Value

Total Fat8g
12%

Saturated Fat

5g
8%

Trans Fat

0g
Cholestrol10mg
3%
Sodium55mg
2%
Total Carbohydrate11g
4%

Dietary Fiber

1g
0%

Sugars

9g
Protein13g
28%
| | |
| --- | --- |
| Vitamin A0% | Vitamin C0% |
| Calcium20% | Iron0% |
* Percent Daily Values are based on a 2,000 calorie diet
Ingredients
Pasteurized Skim Milk, Pasteurized Cream, Coconut, Cane Sugar, Lemon Juice, Fruit Pectin, Live Active Cultures
Live Cultures
B. lactis, L. acidophilus, L. delbrueckii subsp. bulgaricus, L. delbrueckii subsp. lactis, S. thermophilus
What is rjóma-skyr?
Skyr, pronounced "skeer," is the traditional yogurt of Iceland. It is made by incubating skim milk with live active cultures. The whey, the water naturally found in milk, is then strained away to make for a much thicker, creamier, concentrated yogurt. So to make just one cup of skyr, with all that water going out, you need 4 times the amount of milk required to make a regular cup of yogurt. As a result of this process skyr comes out with 2-3 times the protein count of standard yogurt.
Since skyr is fat-free it has been an age old practice to throw a bit of cream back into it for a tad richer touch: generally called rjóma-skyr; or skyr with cream. Delicious!
What separates siggi's?
At siggi's, we make delicious yogurt products with not a lot of sugar and simple ingredients. Our products are based on Scandinavian dairy traditions, such as skyr, the traditional Icelandic yogurt. Our products don't contain any of those dreadful artificial sweeteners. We only use milk from farmers who do not use growth hormones such as rBGH.
Try our other flavors.
– See more at: http://siggisdairy.com/products/detail/skyr/coconut/84/#sthash.mSfjm59X.dpuf