The original 21 Day Fix® was designed to make losing weight so simple . . . you never had to diet again. That's why it became America's #1 home fitness and nutrition program.
Now, Autumn Calabrese has created 21 Day Fix EXTREME (aka #21DFX on social media) to get you seriously shredded in the shortest time possible. This breakthrough 21-day fitness and nutrition program combines simple portion control, clean eating, and extreme 30-minute workouts to help you finally get the lean, defined hardbody you've always wanted.
You can lose up to 15 pounds in just 21 days! Get beach-ready for a vacation, look drop-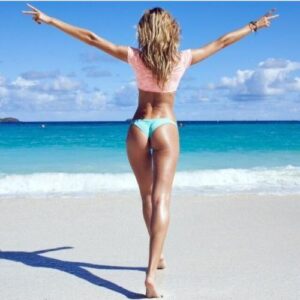 dead great at your upcoming reunion, or simply jump-start a major weight-loss goal—with the 21 Day Fix Extreme and Shakeology Challenge Pack.
CHALLENGE PACK – WHY? You have to get your nutrition on point before you can make changes in the gym! One of your meals for each day is covered with Shakeology! PLUS Your Challenge Pack now includes FREE access to Beachbody On Demand, where you can instantly stream 21 Day Fix and hundreds of proven Beachbody workouts as part of your 30-Day VIP Trial Membership to the Team Beachbody® Club.
Your Challenge Pack includes:
Your first 30-day supply of Shakeology—the superfood protein shake that helps give you energy, reduce cravings, and accelerate your fitness results—delivered on Home Direct, our monthly autoship program.‡
The 21 Day Fix Extreme program, featuring 7 color-coded portion-control containers, 7 easy-to-follow 30-minute workouts, 1 Shakeology shaker cup, and a simple Eating Plan to ensure your success.

A FREE 30-day VIP trial membership to the Team Beachbody Club, now with Beachbody on Demand, where you can stream 21 Day Fix Extreme whenever and wherever you want and find the support you'll need to complete your Challenge.

THE WORKOUTS: ALL 30 MINUTES: SIMPLE FITNESS
7 easy-to-follow workouts on 2 DVDs
Ready for a major calorie burn in only 30 minutes? We made these workouts short so you can get in, get out, and get on with your day. But that's no excuse for taking it easy. The workouts will challenge you at every level to help maximize fat loss. And there's always a modifier on screen to show you how to dial down the intensity without losing the benefits.
Plyo Fix Extreme. An explosive lower-body workout that uses jumping and resistance to torch calories and sculpt muscles.
Upper Fix Extreme. By alternating opposing muscle groups, this no-rest upper-body workout will help shred your chest, back, shoulders, and arms.
Pilates Fix Extreme. Using a resistance band for every exercise, this intense mat workout works the entire body, placing emphasis on the core.
Lower Fix Extreme. Glutes, quads, hamstrings, and calves will get stronger, leaner, and more defined with challenging resistance work.
Cardio Fix Extreme. Combining weighted cardio moves with traditional metabolic training intervals keeps your heart rate soaring.
Dirty Thirty – My personal FAVORITE! Using only seven compound moves focusing on multiple body parts at a time, this workout will burn extra calories while defining muscles. Get down and dirty, and get it done.
Yoga Fix Extreme. A fast-paced flow yoga class, combining strength, balance, flexibility, and power.
SIMPLE EATING: portion control + clean food
Take all the guesswork out of what to eat and how much. These seven color-coded containers and Shakeology shaker cup deliver exactly the right portions every time. And, you'll be eating clean! No cheats, no treats, no excuses. It's not easy. But after 21 days, you're going to look and feel amazing.
Green—Veggies

Purple—Fruits

Red—Proteins

Yellow—Carbs

Blue—Healthy Fats

2 Orange—Seeds & Dressings

Shakeology Shaker Cup—Drinks
A STEP-BY-STEP GUIDE TO HELP YOU SUCCEED: Start Here Guide
Autumn is with you all the way. This quickstart guide and workout calendar puts you on the fast track to getting lean and shredded from Day One!
PLUS, 3 FREE GIFTS!
BONUS GIFT #1: 21 Day Fix EXTREME Eating Plan. Simple portion control. Clean eating. No guesswork. Everything has been provided for you, so all you have to do is follow the plan…and eat. This FREE guide is packed with meal plans, proven recipes, and easy-to-make shakes to help burn fat and carve lean muscle at lightning speed.
BONUS GIFT #2: Countdown to Competition. What does Autumn do when a big competition or a photo shoot comes up? She turns to her own secret meal plan to quickly shed fat and lean out every inch of her body. When you HAVE to look great—and have only 21 days to do it—this is the plan you want.
BONUS GIFT #3: 24/7 Online Support. FREE access to 21 Day Fix EXTREME's premium online program. Enjoy world-class support, invaluable fitness and nutrition tips, and even live chats with Autumn!
A FREE 30-DAY TRIAL MEMBERSHIP in the Team Beachbody Club. Which give you access to our Digital Library of hundreds of workouts that stream LIVE on your mobile device!!!
If you're ready to give this a try, CLICK HERE to order and leave me a message in the Comments so that I can contact you to add you to my exclusive online support group. I will chat with you daily to keep you on track and help you SMASH your goals!
I'm looking forward to working with you!
PS – if you've done the 21 Day FIX and want to know the difference in the two programs, check out my chart below! ⇓