Chewy Granola Cups from Fixate:
1 cup dry old-fashioned rolled oats, gluten-free
1/2 cup dry quinoa, rinsed, not cooked
2 Tbsp. chia seeds
2 Tbsp. flaxseeds
1 tsp.ground cinnamon
1/2 tsp. sea salt (or Himalayan salt)
1/4 Cup all-natural almond butter
3 Tbsp. pure maple syrup (preferably dark amber)
1 large very ripe banana
1 tsp. pure vanilla extract
1/2 cup mixed dried fruit (like cranberries, cherries, apricots), chopped
1/4 cup raw sunflower seeds
1/4 cup chopped raw walnuts
1/4 cup bittersweet chocolate chips
Directions:
1. Preheat oven to 350F.
2. Prepare 12 muffin cups by lining with muffin papers and lightly coating with spray.
3. Combine oats, quinoa, chia seeds, flaxseeds, cinnamon, and salt in a large bowl; mix well.
4. Add almond butter, maple syrup, banana, and extract; mix well with clean hands or a rubber spatula.
5. Fold in dried fruit, sunflower seeds, walnuts (if desired), and chocolate chips; mix well with clean hands or a rubber spatula.
6. Add 1⁄4 cup batter to each muffin cup. Use back of a 1⁄4 cup measure to compress batter into a tight puck.
7. Bake for 18 to 20 minutes, or until edges just begin to brown.
8. Cool; store in an airtight container, in the refrigerator, for up to 2 weeks.
I purchased all of my ingredients at HEB in the bulk section so I had perfect portions! I also used 63% dark chocolate chips by Ghiradelli.
Enjoy more figure friendly recipes with our on-demand cooking show: Fixate! Click here to join!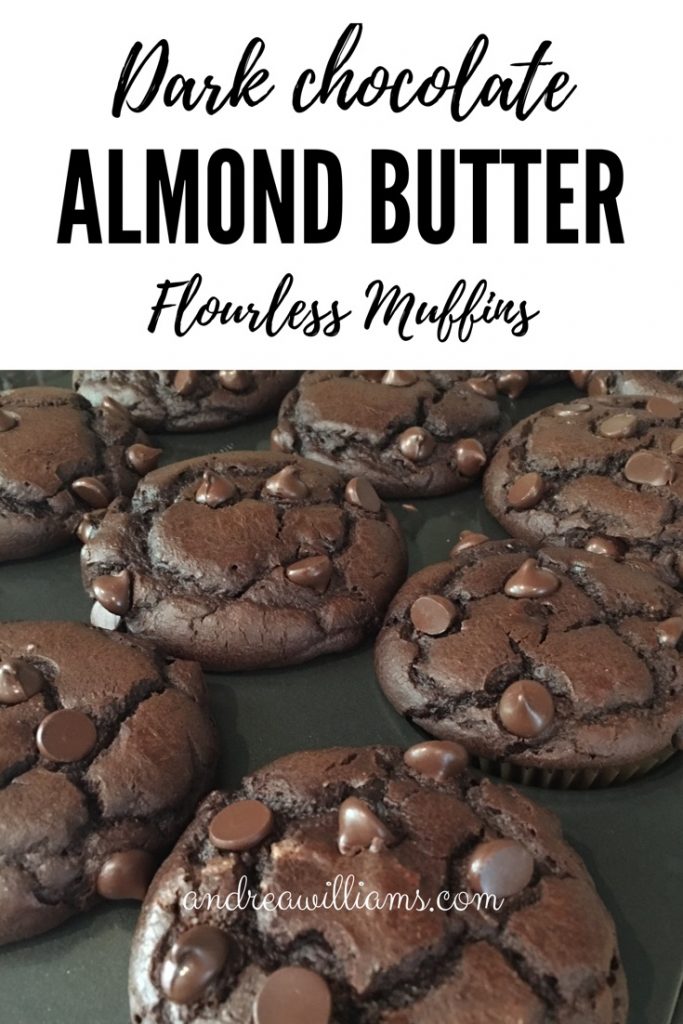 I can't even put into words how good these are! You can play around with this recipe. I'm thinking of trying Coconut Sugar for my next batch since it's lower on the glycemic scale.
Directions:
Makes 12 regular muffins
Preheat oven to 350f
Ingredients:

2 large beaten eggs (room temp)

2 cups Almond Butter (Room temp and creamy works the best)

1/2 cup pure maple syrup (I didn't use quite 1/2 a cup)

1.5 cups pure pumpkin puree 

6 Tbsp unsweetened cacao powder (I use Rodelle Gourmet Baking Cocoa)

2 tsp baking soda 

2 tsp vanilla extract 

3/4 c Guittard 63% dark chocolate chips, divided
Instructions:
Line muffin tray with liners.

Combine all ingredients, just until smooth; adding 1/2 c chocolate chips last. 

Fill muffin tins 3/4 full. I use a large ice cream scoop, so they are each even portions.

Add 1/4 c reserved chocolate chips to the batter of each muffin.

Bake in preheated oven for 25-35 minutes until toothpick comes out clean. 

They are VERY moist if they are NOT over-baked.

Store in airtight container in the fridge!
Recipe adapted from Clean Food Crush.